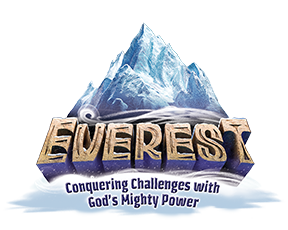 Everest: Conquering Challenges with God's Mighty Power
Take it to the Limit! Embark on an icy expedition where kids overcome obstacles with God's power. Experience God's Word in surprising and unforgettable ways with rock-solid Bible truths to guide kids through life's challenges.
What? Vacation Bible School
Where? Here at Massapequa Reformed Church
When? June 29 – July 3
Time? 9:00am-12:00pm
Cost? $0 That's right, this is our gift to you!
Who? Children Pre-K through 6th grade*
*Note: we will have a separate "Preschool Peak" program for the children in preschool and kindergarten.
Registration is now closed.

Daily Bible stories and themes…
Day 1: God has the power to provide—God provides for Elijah (1 Kings 17)
Day 2: God has the power to comfort—God speaks to Elijah (1 Kings 19)
Day 3: God has the power to heal—God heals Naaman (2 Kings 5)
Day 4: God has the power to forgive—Jesus dies on a cross to take away our sins (Luke 22:47-23:56)
Day 5: God has the power to love us forever—Jesus promises us an eternal home (John 14:1-3)